Kate Winslet is my favorite female actor and i
couldn't resist myself from writing about her. She is most beautiful natural beauty and has been voted the most beautiful in the world a no. of times in various categories. So this post is dedicated to the beauty-queen.
As a testament to her talent, Kate Winslet is a record holder: She's the youngest actress to score six Academy Award nominations, receiving her first for Jane Austen's Sense and Sensibility (1995) and her latest for The Reader (2008).

Kate Elizabeth Winslet (born 5 October 1975) is an English actress and occasional singer. She is noted for having played diverse characters over her career, but probably best-known for her critically acclaimed performances as Marianne Dashwood in Sense and Sensibility, Rose DeWitt Bukater in Titanic, Clementine Kruczynski in Eternal Sunshine of the Spotless Mind, Sarah Pierce in Little Children, April Wheeler in Revolutionary Road, and Hanna Schmitz in The Reader.
Early life
Winslet was born in Reading, Berkshire, England, United Kingdom, the daughter of Sally Anne (née Bridges), a barmaid, and Roger John Winslet, a swimming-pool contractor. parents were "jobbing actors", with Winslet commenting that she "didn't have a privileged upbringing" and that their daily life was "very hand to mouth". Her maternal grandparents, Linda (née Plumb) and Archibald Oliver Bridges, founded and operated the Reading Repertory Theatre, and her uncle, Robert Bridges, appeared in the original West End production of Oliver!. Her sisters, Beth Winslet and Anna Winslet, are also actresses. Winslet, raised as an Anglican, began studying drama at the age of eleven at the Redroofs Theatre School,[5] a co-educational independent school in Maidenhead, Berkshire, where she was head girl and appeared in a television commercial for Sugar Puffs cereal, directed by Tim Pope.
Winslet is born in Reading, England to a theatrical family that includes her uncle, the late stage actor Robert Bridges. From an early age, she is inspired to act by her grandparents, who run a local theater. "It's in my family to act," she tells the New York Times in 1995. "I always knew that this was what I wanted to do." At 11, she gets her first paycheck pitching Sugar Puffs cereal in British commercials before appearing in the British series Shrinks and Get Back.
early 1990s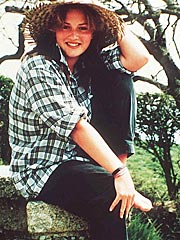 Making Weight
By 16, a 5'6 ½" Winslet tops the scale at 185 pounds. "I just knew I wouldn't work if I stayed that way," she tells PEOPLE in 1998. After slimming down, she works on the BBC-TV children's sci-fi show Dark Season, where she meets actor and TV writer Stephen Tredre, 28, who she begins dating. They eventually move in together in London, and she calls Tredre "the most important thing in my life after my family." After nearly five years together, their romance ends and Winslet has a three-month romance with actor Rufus Sewall.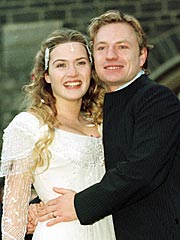 November 22
Winslet Weds Threapleton
Winslet marries assistant film director Jim Threapleton (left), whom she met in Morocco while on the set of Hideous Kinky. They wed in a pub in her hometown of Reading, England. "It was quite amazing," Winslet, who wore a white Edwardian-style gown, tells PEOPLE. "It was the most amazing day of our lives."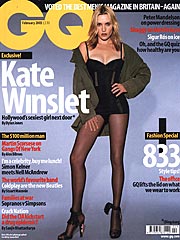 2003 February
Shrinking Kate
A digitally-slimmed Winslet appears on a UK edition of men's magazine GQ. The faux physique ensues a wave of controversy, with Winslet even criticizing the mindset of equating sex appeal with thinness: "What is sexy? All I know from the men I've ever spoken to is that they like girls to have an arse on them, so why is it that women think in order to be adored they have to be thin?" In 2007, she sues and wins libel damages from a British magazine that claimed she saw a diet specialist.
Filmography
Awards and nominations

Winslet won an Academy Award for Best Actress for her performance in The Reader, as well as two Golden Globe Awards, one in the category of Best Actress (Drama) for her performance in Revolutionary Road, the other in the Best Supporting Actress category for The Reader. She has won two BAFTA Awards: Best Actress for The Reader, and Best Supporting Actress for her performance in Sense and Sensibility (1995). She earned a total of six Academy Award nominations, seven Golden Globe nominations, and seven BAFTA nominations.[71][72] She has received numerous awards from other organizations, including the Los Angeles Film Critics' Association (LAFCA) award for Best Supporting Actress for Iris (2001) and the Screen Actors Guild Award for Outstanding Performance by a Female Actor in a Supporting Role for Sense and Sensibility (1995) and The Reader (2008). For Holy Smoke! (1999), she was declared Best Actress runner-up by both the New York Film Critics' Circle (NYFCC) and the National Society of Film Critics (NSFC). Winslet was also NYFCC's Best Actress runner-up for Eternal Sunshine of the Spotless Mind (2004). Premiere magazine named her performance as Clementine Kruczynski in Eternal Sunshine of the Spotless Mind the 81st greatest film performance of all time.